Ultraseal paper highlights why applying pressure is not necessary in casting impregnation
Ultraseal will present a paper to visitors at NADCA's 2015 Die Casting Congress & Exposition that outlines how excellent results can be obtained when impregnating power train components without the expense or effort of applying over-pressure.
Dr Mark Cross, Sales Director of Ultraseal will present a research paper at 4.15pm on Monday, October 5, during the exhibition at the Indianapolis Convention Center, Indianapolis.
Casting impregnation is routinely used as a quality enhancement for power train components as it offers a reliable and permanent solution to the problem of porosity – microscopic holes – that form in cast metal parts during the casting process.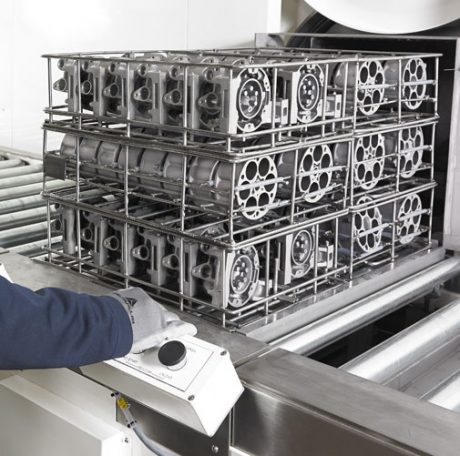 He will explain how the practice of applying over-pressure to speed up the casting impregnation process is unnecessary for power train components because modern methacrylate sealants fill porosity extremely quickly without it.
Stephen Hynes, Marketing Director of Ultraseal, said: "This is very good news for diecasters and the automotive supply chain – they don't have to go to the trouble of adding pressure to their casting impregnation processes, with all the capital and running costs involved.
"Our research shows that straightforward vacuum impregnation with a methacrylate-based sealant such as Rexeal 100™ will give excellent results. They don't need to invest in the capital expenditure of a high pressure system."
The practice of applying added pressure, of up to six Bar, dates back to the 1960s when the sealants commonly used were far more viscous than modern sealants. Its purpose was to help drive the liquid sealant into the microscopic holes, known as porosity, which can otherwise cause an automotive component to leak.
However research by Dr Mark Cross and Dr Fiona Knight of Ultraseal demonstrates that added pressure is now generally unnecessary because modern methacrylate-based sealants fill up porosity very quickly without it.
By drawing on mathematical modelling research carried out by Dr Peter Matthews of the University of Plymouth they worked out that a hole 250 microns across would be filled to a depth of 1mm by a modern sealant in less than one-hundredth of a second.
Even narrower holes of one micron in diameter, which are harder to fill, would only take one second to be filled to the same depth.
Stephen Hynes said: "The process is so rapid that overpressure is not actually necessary. It takes less than one second to fill the majority of pores with modern low viscosity methacrylate-based sealants.
"Using purely vacuum impregnation increases throughput and reduces running costs and the complexity of the impregnation plant, thus reducing the capital expenditure required – and there is no compromise to sealant performance."
Working with the University of Plymouth they used mathematical modelling tools to predict the effects of changing the pore size, viscosity of sealant, initial vacuum and application of extra pressure during the casting impregnation process.
They established that a vital factor for successful impregnation was to ensure that a sufficient vacuum is applied at the outset of the casting impregnation process in order to expel air from porosity before the sealant was introduced.
This finding was then backed up by experiments on test castings in the laboratory which showed that nearly 100% of porosity was filled within 10 seconds if an effective vacuum was established.
Ultraseal has a long history of innovation: those who want to learn about its latest innovation the R-FL-Duplex Plus machine should visit Booth 214 at the conference from October 5-7 2015.
With its small factory footprint, increased throughput and full automation with robotics, the R-FL-Duplex Plus is transforming casting impregnation. It dispenses entirely with one of the three stages of casting impregnation.
Ultraseal International has a truly global reach, with operations in India, China, the United States, Japan and Germany, and a network of 22 agents/distributors around the world. All of its Research and Development, and production of sealants, is based in Coventry, UK.
Ultraseal America Inc. looks after customers in North America and also in the growing market of Mexico.