Ultraseal Vacuum Impregnation
A quality, productivity and cost-enhancing solution for porosity in cast metal automotive components
Continuous improvement and cost-efficiency are key drivers for the automotive industry and, as a key supplier, the metal casting industry is under increasing pressure to perform by continuously improving productivity, material efficiency and component quality whilst reducing costs.
Solving porosity through the post-casting process of vacuum impregnation can improve die casting productivity and cost efficiency, improve product quality, prevent functional component failures and ultimately improve profitability.
Porosity in cast automotive components
Die cast automotive components, such as compressors, engine blocks, cylinder heads, transmissions, hybrid and battery electric powertrains must pass stringent quality testing. Undetected, porosity in any single cast part could compromise the performance of the component or system.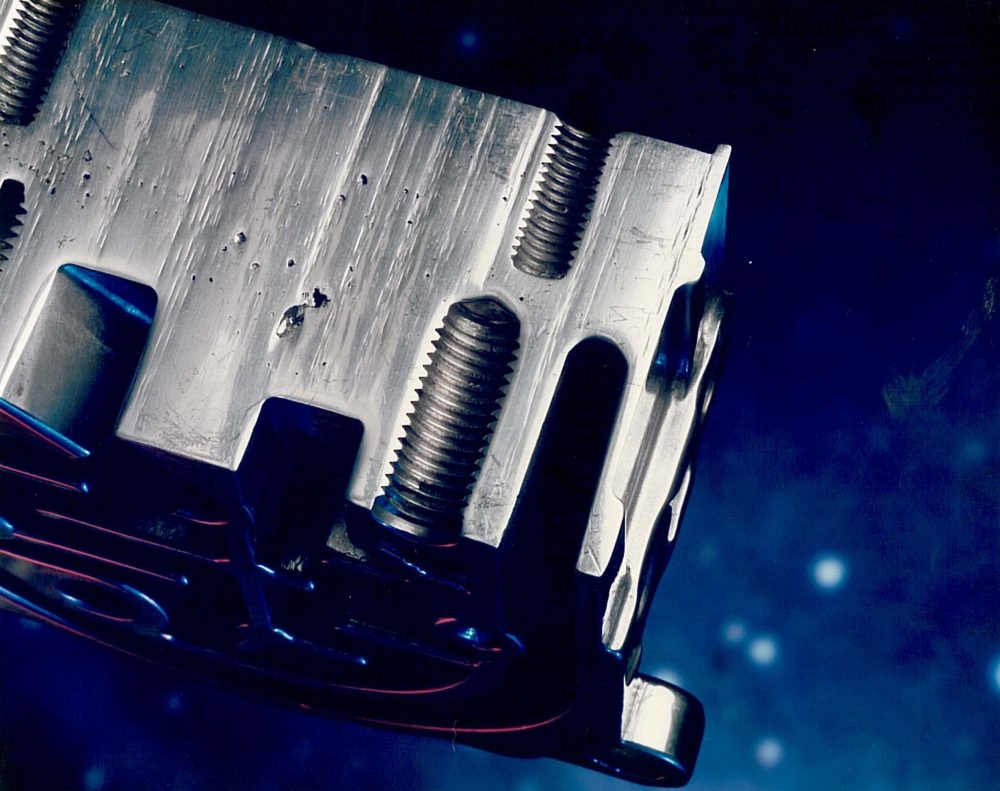 Let's take compressors, for example: typically tested to be pressure-tight up to 18 bar and operate at internal temperatures of up to 150°C. If there is the slightest leak or contamination, the compressor will not work correctly. If a leak is detected once the compressor has reached final assembly manufacturers face the costly option of disassembly and scrapping up to 90% of the non-cast components, including the match machined pistons and seals.
It is widely accepted that porosity is almost impossible to prevent during the die cast production process, with variables such as molten material volume, flow, pressure, trapped gases and the presence of die release agents all contributing to the creation of porosities at varying times throughout the die casting process.
Vacuum impregnation as a solution to porosity
Effective on porosities between 100nm and 0.5mm in size, vacuum impregnation using a thermally and chemically resistant polymer is the solution of choice for sealing casting porosity in the automotive industry. For the most effective quality enhancement results, the impregnation process can be integrated within the production facility or even in-line with the manufacturing process.
There are three key stages to the impregnation process. First, sealant is introduced to the casting under vacuum in an autoclave. Once components are immersed in sealant the vacuum is released, allowing the sealant to penetrate into the micro-porosities and leak paths within the casting. Application of sealant to the casting can take as little as thirty seconds for components such as engine blocks.  Second, a cold wash stage removes excess sealant from external component surfaces and tapped holes. The final process stage is a hot cure cycle. This exposes components to heat for a predetermined time period, using hot water, which polymerises the sealant inside the porosity, transforming it from a liquid state to solid polymer.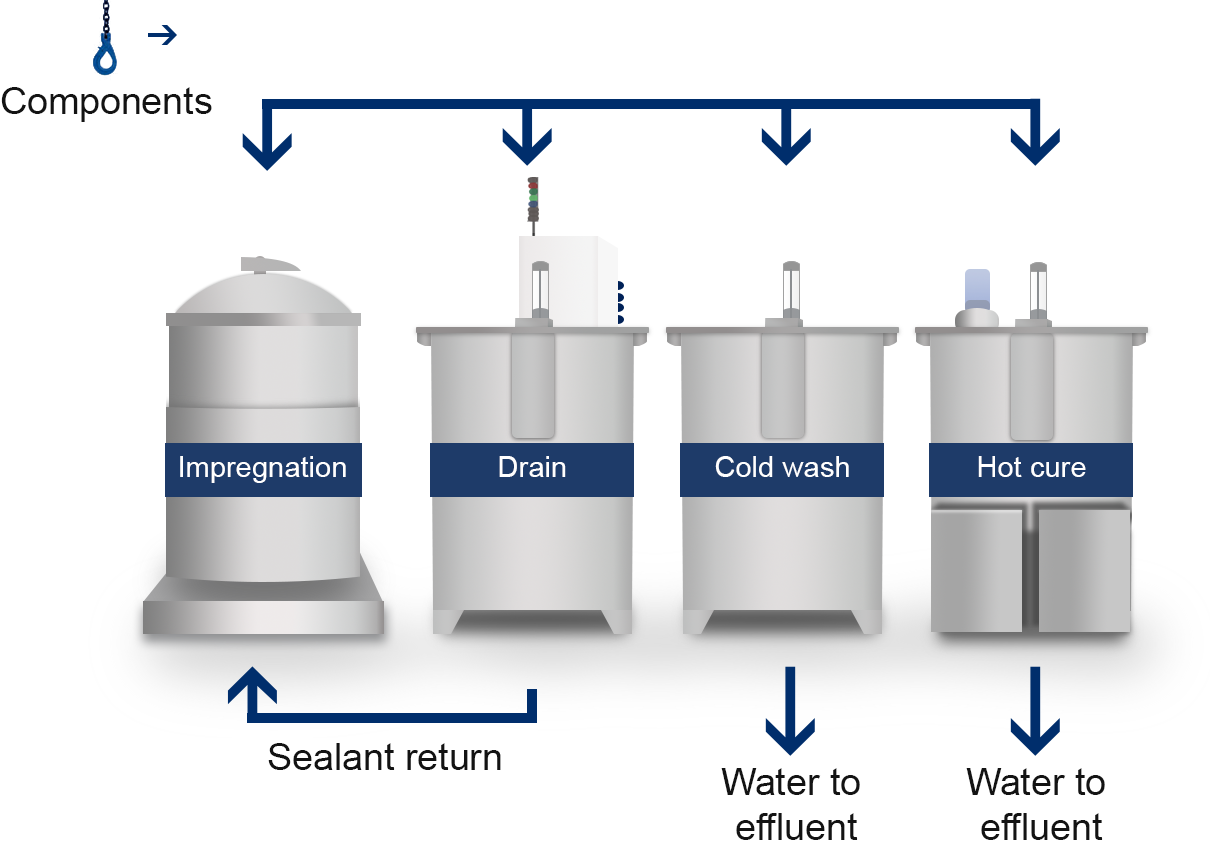 Both the cold wash and hot cure stages produce an effluent stream. During the cold wash stage with conventional, non-recycling sealants, up to 95% of the sealant consumed is lost to effluent. After a relatively small number of cycles the wash water must also be replaced to prevent unwanted sealant contamination of components. The emulsified wash water cannot be discharged into the public sewer system and requires disposal by specialised waste management companies. This results in wastefully high and expensive process water and sealant consumption with associated environmental treatment and disposal costs.
Recycling systems minimise and optimise sealant and water usage
In contrast, by using recycling impregnation sealants and process equipment both sealant and process water usage can be minimised and optimised – reducing operating and environmental costs and improving performance. Ultraseal's sealant recycling system (SRS) recovers up to 95% of the sealant washed away during the cold wash stage, separating the sealant from the wash water in the recycling system and returning both the recycled sealant and the cleaned wash water in a closed-loop system for reuse in further impregnation cycles.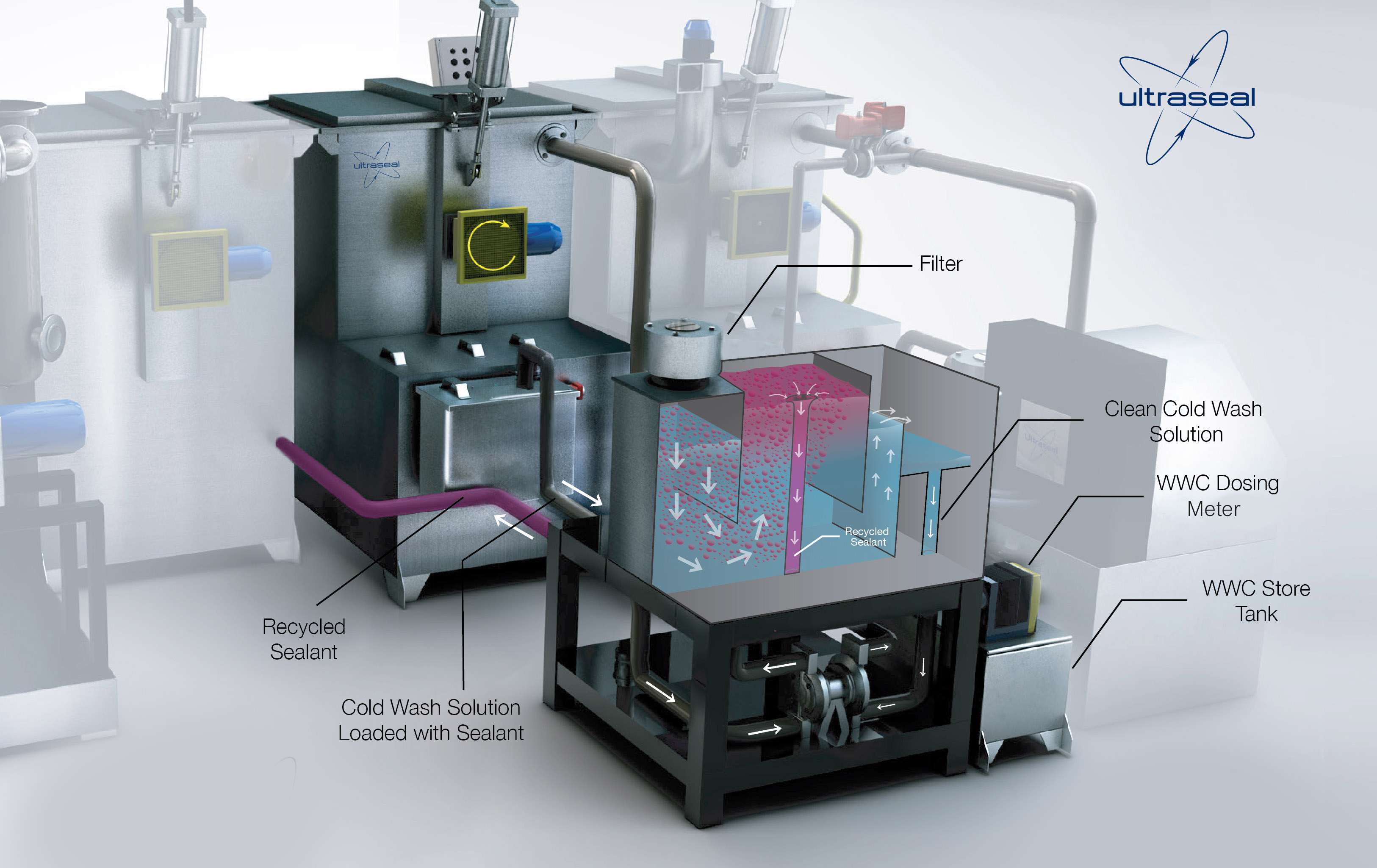 This significantly reduces the consumption of sealant – by up to 95% – and with substantially less sealant and wash water wastage, facilities can benefit immediately from reduced effluent and contaminated process water treatment and disposal costs. An important consideration in locations where there is a high cost associated with treating waste water or disposing of effluent, or where water is a scarce resource.
It is also possible to deliver further process water recycling efficiencies and effluent disposal cost savings by investing in a fully closed-loop impregnation system. This realises further water recycling efficiencies by re-using process wastewater from the hot cure stage after treatment in an energy-efficient vacuum distillation system linked to the hot cure tank. This system can create a complete zero discharge production process.
A solution to meet any production requirement
The right porosity sealing solution for each manufacturer may be vastly variable, depending on production volume, available floor space, component requirements etc. Ultraseal International offer a complete range of casting impregnation options that meet the needs of both specialised low-volume and mass-production high volume die casting facilities. These range from semi-automated top load equipment systems to providing complete production line integration, outsourced solutions and even on-site fully managed services
Use the links below to explore the different options available, or alternatively, contact our team for an on-site review and personalised suggestions of vacuum impregnation solutions to meet your needs.