Ultraseal International Group: success at GIFA 2019
Ultraseal International, the global leader in porosity sealing, showcased its unrivalled ability to deliver improved productivity, quality and environmental performance across casting impregnation, post casting treatment and die release as its Group companies exhibited together for the first time at this year's GIFA trade fair.
With trends such as automation, resource efficiency and additive manufacturing steering conversation at the event, Ultraseal highlighted a selection of its Group's innovative product and service solutions – from brands including Maldaner, Sterr & Eder, IMP and Lubrolene. Leading the way in sustainable casting impregnation with its recycling sealants and technology, Ultraseal demonstrated how it helps manufacturers to maximise performance and resource efficiency by delivering significant sustainability, production and cost-saving benefits.
Taking centre stage on Ultraseal's stand was a fully automated front loading robotic impregnation system, demonstrating the fast, consistent cycle times, small footprint and build quality of the company's casting impregnation equipment. Also on display was a range of die cast aluminium powertrain, structural and e-mobility components, alongside carbon fibre and additive-manufactured parts, highlighting the Group's porosity sealing and post casting treatment capability across its global service centre and managed service network.
With teams from each brand on the stand throughout the event, visitors were able to discuss the benefits of utilising the latest casting impregnation technology and services within their manufacturing processes and also discover innovative solutions such as Lubrolene water-free die release agents and electrostatic spray system technology.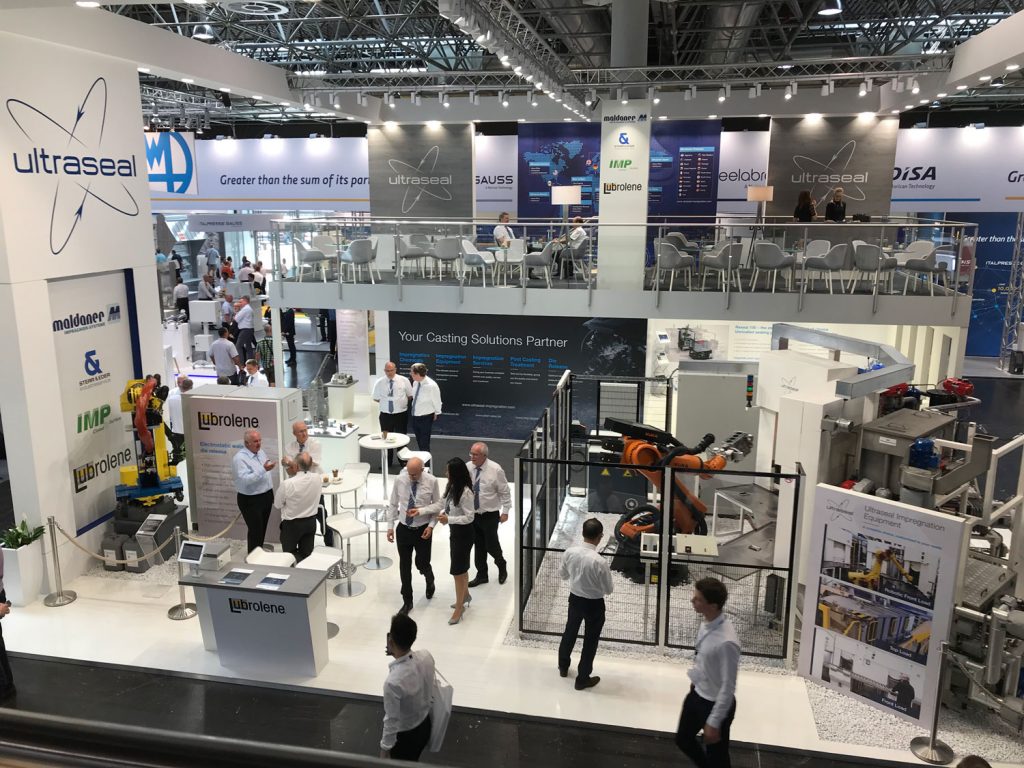 "This year's GIFA exhibition was a huge success for us and was the first time our Group companies have exhibited together," said Gary Lloyd, Managing Director of Ultraseal International Group Limited.
"The overwhelmingly positive response we received to this combined strategy demonstrates the value we are able to bring to customers around the world, providing them with end-to-end support for their casting needs.
"Everyone who joined us on our stand was excited to see how our unrivalled product offering could help them to deliver improved quality, productivity, lower total cost of ownership and exceptional environmental performance. This is what drives Ultraseal International, and our presence at GIFA over the five days of the event gave visitors the ideal opportunity to discover our solutions and global capabilities for themselves."
From impregnation chemicals and equipment through to post casting treatment and die release, the Ultraseal International Group – which includes Maldaner GmbH, Sterr & Eder GmbH, International Metall IMPrägnier GmbH (IMP) and Lubrolene – provide a full range of casting solutions from a single partner.